Funktion av Teardrop Flagg:
Kom standard med anpassad flagga, glasfiber / aluminium kompositstångssats, markpinne / korsfot och

nylonväska.

Tryckt i vacker CMYK-färg på 110 g elastisk polyesterväv med en svart flagghylsa.

Ensidigt endast med speglad bild på baksidan.

360 graders varvradie

storlek val: 2,8 m - 5,6 m
Specifikation :
Item
Hollow Teardrop Flags with Single side Images and 3 kg cross feet
Size
2.8 m, 3 m, 3.4 m, 4 m, 4.5 m, 5 m, 5.5 m
Flag Material

110g Knitted Fabric

satin fabric

Pocket Material

600D oxford fabric

elastic fabric

knitted fabric

Pole Material

Fiberglass pole +aluminum pole;

full fiberglass pole(3m flag,4m flag,5m flag)

Printing Types

Digital printing;

dye sublimation printing (this quality is better)

Printed sides of flag
Single or double sides
Base Choice
Metal cross;aluminum cross ;ABS spike ;Chrome-plated iron spike
Packing
Each set has individual carry fabric bag
Payment
T/T; Paypal ;Western Union ;L/C
Den inre förpackningen av våra tryckta Teardrop Flag banners med kit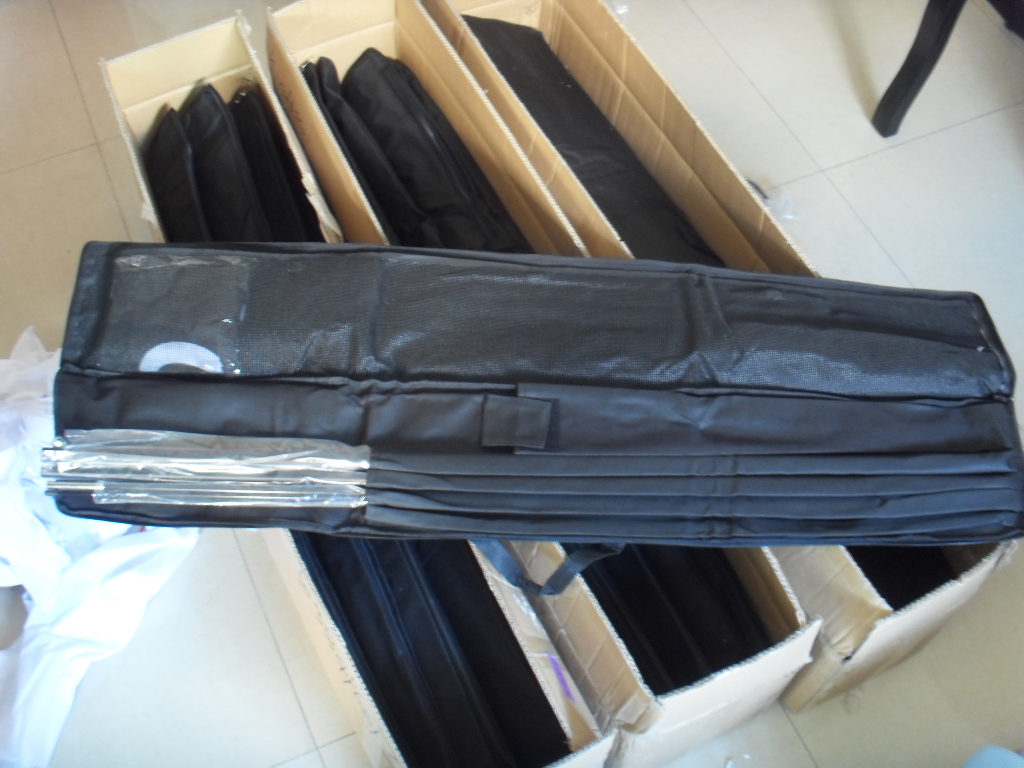 Detaljerna om våra teardrop flaggor poler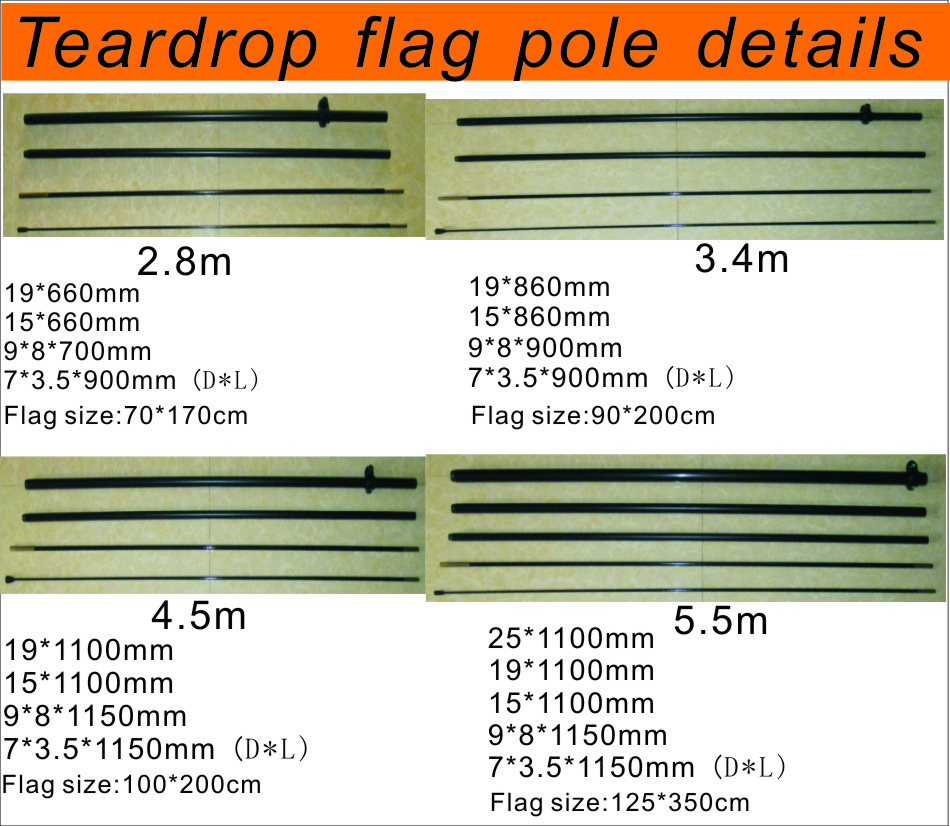 Grundansökningsguide
Bastyp Ansökan
Korsfot och vattenpåse De flesta hårda markförhållandena, väskan ger extra vikt (12 kg) för att göra flaggor starkare ute
Bilbas Passar runt eller under ett däck, perfekt för bilverkstäder, motorshower eller marknader
Cirkelfot Platt, hård markytan, tungt robust basalternativ
Markspik Mjuk mark, som gräs, mark och sand etc.
ABS-bas Sätter i marken.
Väggmontering Montering på väggen

Storlekslistan för våra Teardrop Flag Banners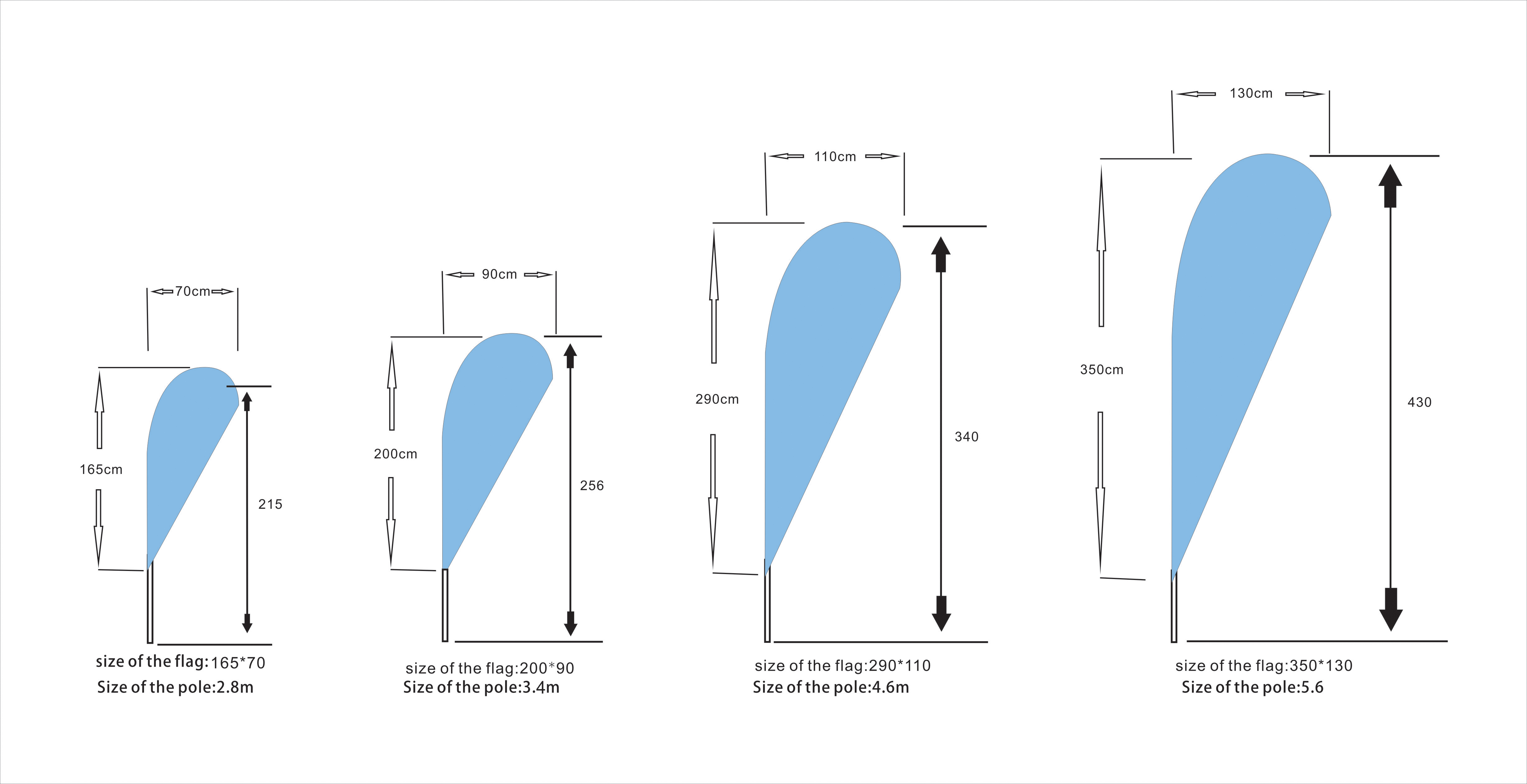 RFQ:

Hur skickar man designen?
1. Vi tillhandahåller mallen för din design eller du kan skicka oss konstverket med 1: 1 storlek med 150-300 dpi
2. Vad är min order med anpassad storlek flagga?
1 st
3. Kan vi bara beställa de tryckta flaggor utan maskinvara?
Ja
4. Du kan skriva ut den olika bilden på varje sida av flaggan med samma pris?
Ja, oavsett utskrift samma grafiska eller annorlunda, priset är detsamma
5. Vad är kvalitetsgarantin för hårdvara?
Ett år
Vi är i tryckfält för 12 års erfarenhet. Vi har 100 anställda, 6 professionella designers, 6 QC, 12 internationella försäljningar, 3 ingenjörer, 6 produktionslinjer, kan göra hög kvalitet och hög produktion kompabilitet. Våra huvudprodukter är Flaggor och banor , Vinylklistermärke och affischer, bildskärmar ( Spänningsduksdisplay , tyghängande banderoller, Rulla upp banderoller , X Stand Banners ), Skräddarsydda bordsskick och anpassad tryckt baldakin. De flesta av våra tryckmaterial har certifikatet för brandbekämpning (B1) och SGS för bläck. Alla våra kunder är från hela världen. Vi samarbetade med Hello Kitty, Disney före. Välkommen till din förfrågan, vi kommer att ge dig det bästa fabriken pris och snabb leverans.