Aluminium Promotional Display Counter med bärväska
Vi tillhandahåller högkvalitativ aluminiumskonfigurationsdisplaybord / bord, det är lätt att bära och installera. Fullfärg tryckt omslag på det och topp kartong skylt. Varje kampanjbord paced med tygväska. Plastanslutningen för varje del är stark än normalt, det blir inte lätt bruten. Vi kommer att tillhandahålla video eller instruktioner för att vi ska berätta för dig hur du använder vår presentationsdisk. Vi packade 5 set i varje exportkartong. För den tryckta affischen på räknarkroppen behöver du bara hänga den i hängen i fästet. Du kan se vårt kampanjbord i sport, stormarknad, köpcentrum, butiker, mässa, du kan ta det överallt. Och det kan användas många gånger så länge du behåller dem bra när du inte behöver dem.
Det finns ingen min beställning för vår aluminium-reklamdisplay. 1 st finns tillgänglig.
Ledtiden är en dag för provorder och vi kan skicka ut den inom 48 timmar till hela världen.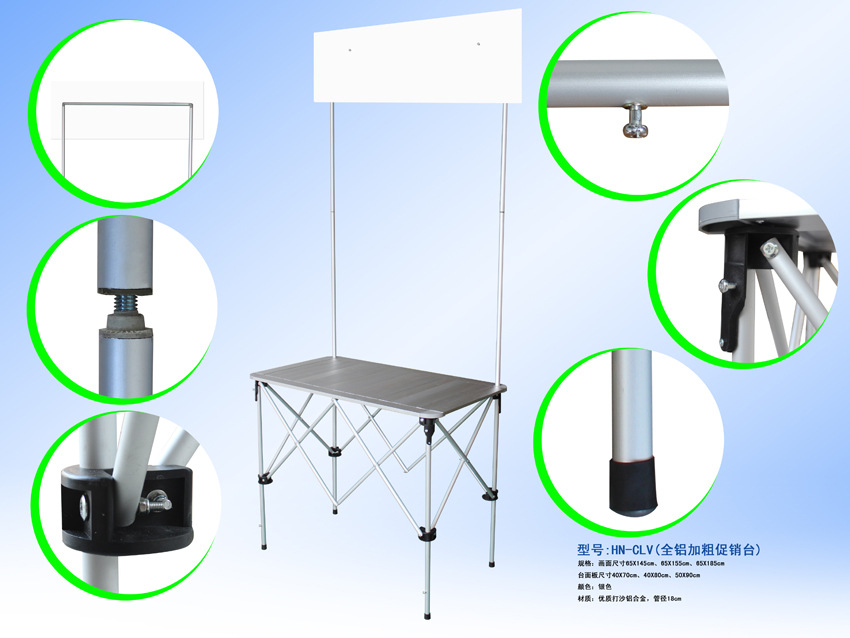 tryckt yta:
Överdel : 20 * 70cm
Underdel: 145 * 72cm
Material av bord : bra aluminium / legering
Utskriftsmaterial : 220g PVC-film med laminering (blank eller matt)
Toppskiva : 3 mm eller 5 mm pvc-kort med tryckning
tabellstorlek: 41 * 71cm
Förpackning : Varje förpackad med god kvalitet väska
NG : 4,0KG inklusive skrivbannern
ansökan : stormarknad, årsdag, sport, marknadsföring och så vidare!
funktion : lätt och lätt att bära, hållbar, ekonomisk!
Item

good quality aluminum / alloy promotion tables with graphic printing

Size

41*71cm

banner material

pvc film with lamination

Finished of products

table with graphic printing

Material of stand

good quality of aluminum

Printing Types

Digital printing;

injet printing

Advantage

easy to carry

Color

Full color printing

application

indoor and outdoor advertising show

MOQ

1 pcs
FAQ:
1. Är grafiken vattentät och UV-resistent?
----Ja
2. Hur ska du packa dem?
--- Häng grafiken i bordet och bordet kan brytas.
3.
Vad är ledtid för mindre oder (inom 100 uppsättningar)
---5 dagar
4
. Ger du designtjänsten?
--- Ja, vi har ett professionellt designlag!
5. Vilken typ av konstverk behöver du?
--- pdf, JPG med hög upplösning (1: 1 storlek), PSD, AI, TIF
6. Hur lägger vi beställningen?
---- A, skicka förfrågan till oss
---- B, vi kommer att skicka dig PI efter allting är bekräftat
---- C, du ordnar insättningen, då ordnar vi ordern och börjar producera, vi skickar dig några bilder som visar produktionsprocessen och färdiga produkter och förpackningar. När du ordnar balansen i ordern.
7. Hur levererar du varorna?
--- Med internationell express (DHL, TNT, Fedex, UPS, kommer vi att använda det bästa ekonomiska sättet att spara pengar), om varorna är många och tunga, föreslår vi att använda fartyg.
8. Vilken typ av betalningsperiod kan du acceptera?
--- Western Union, paypal; L / C; T / T
9. Hur matchar du vår färg?
--- Vi har Pantone Book till maskin
--- Våra tryckmaskiner har också systemet för att styra färgerna och matcha färgerna
10. Hur många färger kan du skriva ut?
--- fullfärgstryck (4 + 1 - vit färg)
11. Hur skickar du den mycket stora filen som ska skrivas ut?
--- Att använda "yousendit" eller "dropbox" eller "wet transfer" eller online.
Om oss :
Vi är i tryckfält för 12 års erfarenhet. Vi har 100 anställda, 6 professionella designers, 6 QC, 12 internationella försäljningar, 3 ingenjörer, 6 produktionslinjer, kan göra hög kvalitet och hög produktion kompabilitet. Våra huvudprodukter är Flaggor och banor , Vinylklistermärke och affischer, bildskärmar ( Spänningsduksdisplay , tyghängande banderoller, Rulla upp banderoller , X Stand Banners ), Skräddarsydda bordsskick och anpassad tryckt baldakin. De flesta av våra tryckmaterial har certifikatet för brandbekämpning (B1) och SGS för bläck. Alla våra kunder är från hela världen. Vi samarbetade med Hello Kitty, Disney före. Välkommen till din förfrågan, vi kommer att ge dig det bästa fabriken pris och snabb leverans.
Produktkategorier : Promotional Display Counter