Deluxe Dubbelsidig Bow Banner
Dra uppmärksamhet från båda sidor, Upprepa ditt meddelande eller ha två olika mönster. Fördelen med dubbelsidiga flaggor är att de skrivs ut på separata materialstycken med ett utplåningsskikt mellan varandra och sys ihop för att visa en sann bild / text på båda sidor (inte speglad eller omvänd text). Alla baser är konstruerade speciellt för att vara fritt roterande för att inte rippa upp i vinden och att låta flaggan flytta med brisen.
Dubbelsidig Bow Banner Wind Flags finns i olika storlekar och är idealiska för att locka uppmärksamhet från långt. De större storlekarna är idealiska för att maximera effekten av ditt varumärke. Mest sedda vid försäljning av bilgårdar, lokala marknadstillstånd och sportevenemang är dessa flaggor det perfekta sättet att få ditt varumärke att märka.
Andra vanligt förekommande namn för denna produkt är Beach Banners, Frittstående flaggor, Vindflags, Promotional Flags, Reklamflaggor, Custom Printed Flags, eller Retail Flags.
- Inkluderar tryck, poler och bärväska
- Dubbelsidig utskrift
- Basval (säljs separat)
| Base type | Base is suitable for... |
| --- | --- |
| Cross feet and water bag | Most hard ground situations; water bag will provide extra weight. |
| Car base | Fitting around or under a tire; Ideal for car yards, motor shows or markets |
| Circle foot | Flat, hard ground surfaces; Heavy sturdy base option. |
| Ground peg | Soft ground, such as grass, soil and sand etc. |
| Wall mount 0 degrees | Mounting on the wall |
| Wall mount 45 degrees | Mounting on the wall at a 45 degree angle |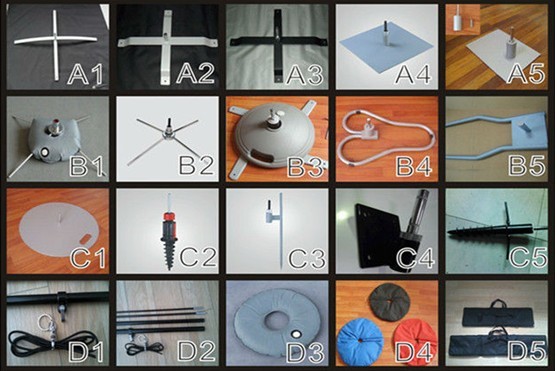 Vi använder eldfasta överlägsna stickade polyester för att göra flaggor med värmeöverföringsutskrift. De tryckta färgerna är levande och vattentäta. De kan vara utanför alla dagar i ett år.
Dubbelsömd runt flaggans kant och elastisk stark flaggstångshylsa, förstärkande ärmtopp för att göra den starkare.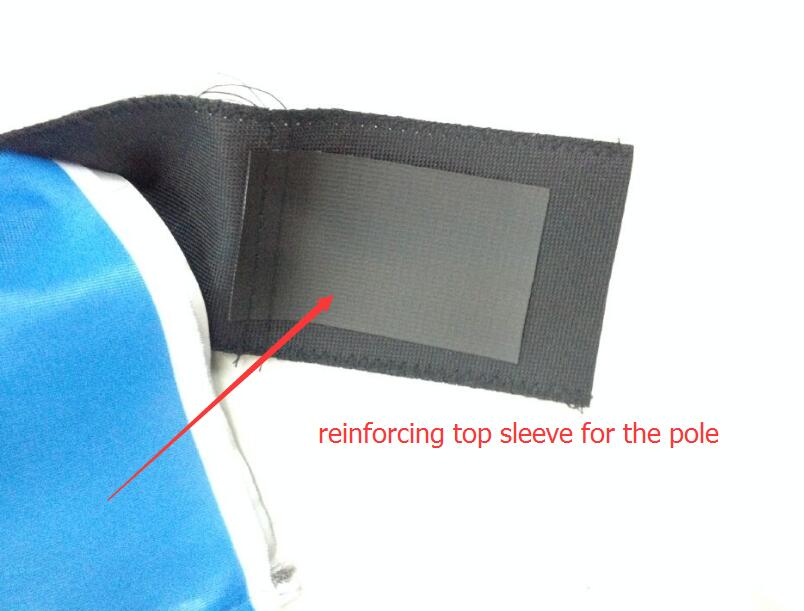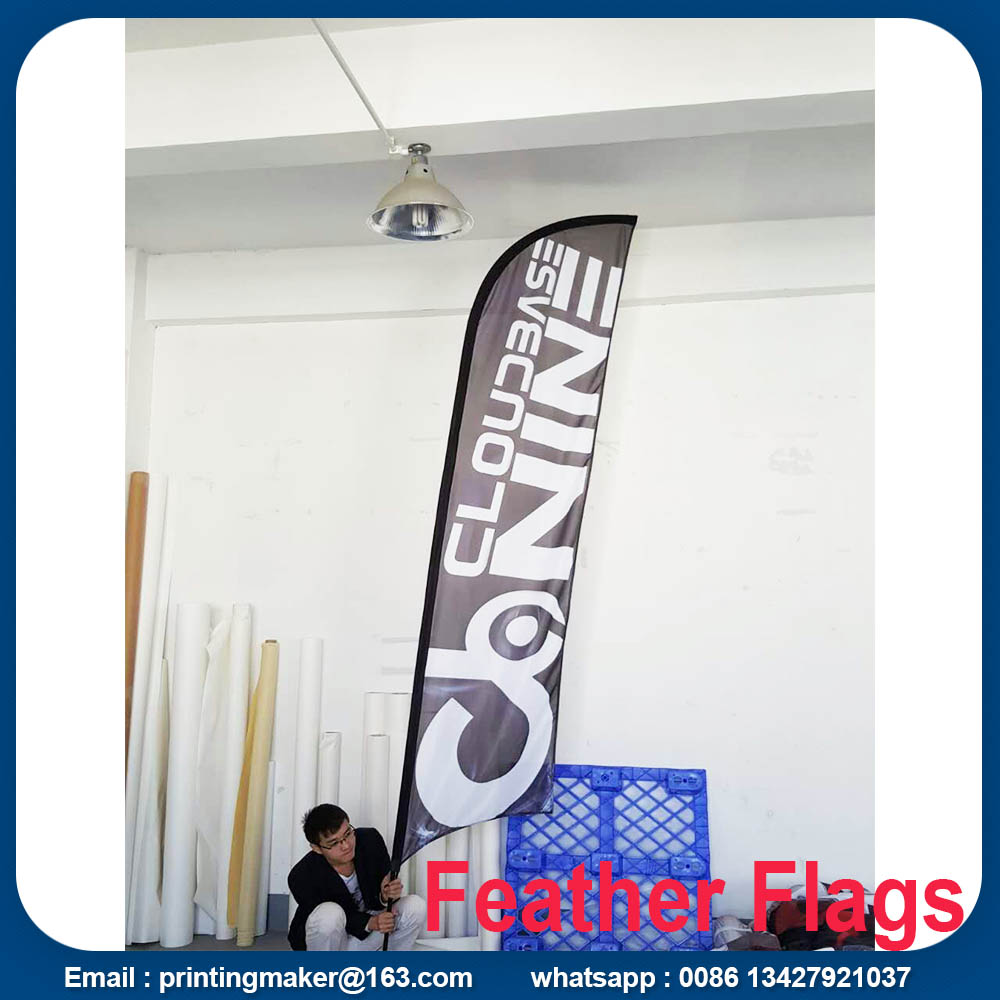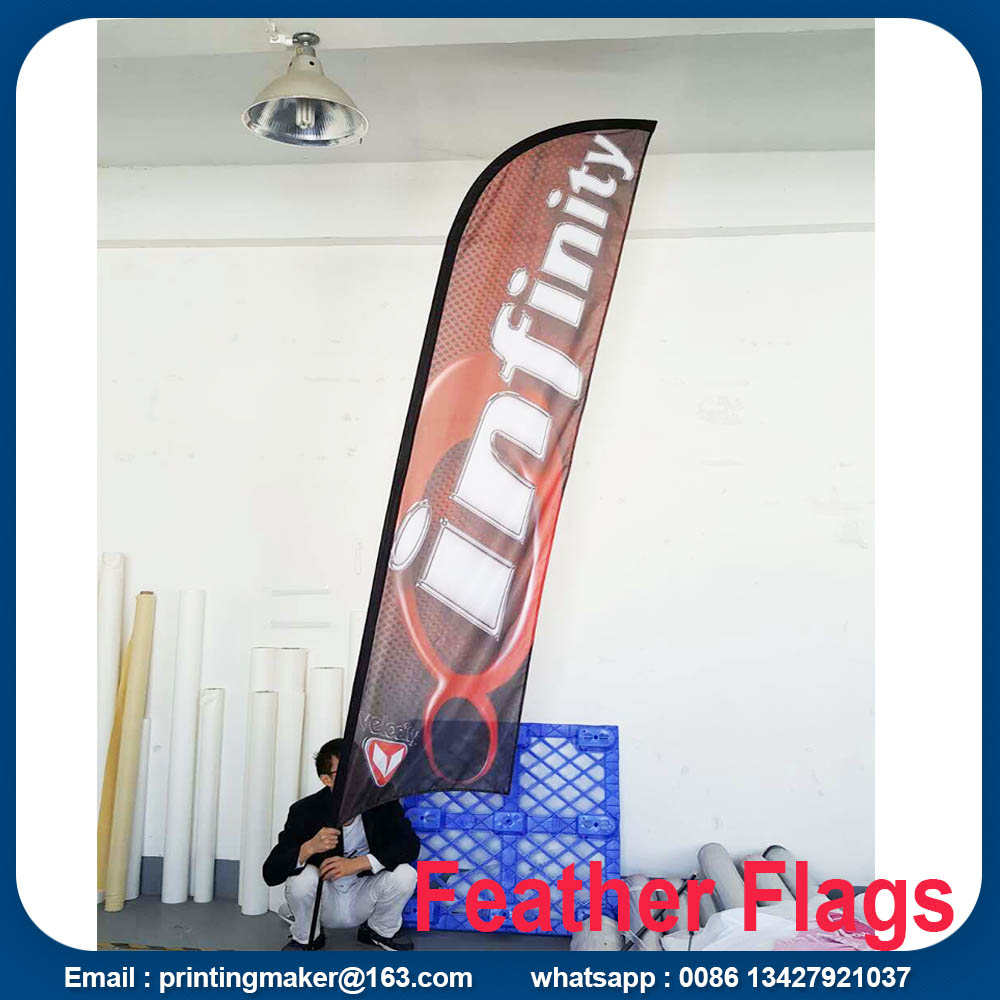 Produktfunktioner
1. flaggstorlek: 70x340cm (2,3x11 fot)
2. glasfiber flaggstång (toppdel) + aluminiumspol
3. Enkelsidig eller dubbelsidig tryckt flagga
4. samma grafik som skrivs ut på varje sida av flaggan eller annorlunda
5. metallkorsbas
6. oxford tygväska
7. pvc vattenpåse (tillval)
8. Du kan beställa alla maskinvaror, tryckta flaggor individuellt
Returinformation:
Om det finns några fel från oss, kommer vi att byta ut inom en dag och skicka ut med prioriterad frakt utan kostnad. Kunden måste ge oss några bilder för att visa våra fel, så vi kan visa till vårt företag att ansöka om ersättning.
Om du inte är nöjd med vår flaggkvalitet, berätta för oss ditt krav tydligt, så vi kan ge dig ett professionellt förslag och återskapa det.
Storlekslista över våra fjäderkonkava flaggor:
Glass Fibre Poles + Aluminum Poles

Rod total height

2.8 meter(9.2feet )

3.4meter (11.1feet )

4.5meter(14.77feet )

5.5meter(18.0feet)

Flag size

50*200cm

60*240cm

70*340cm

80*410cm

Vertical Height

260cm

300cm

400cm

500cm

Glass Fibre Rods

Rod total height

300CM (9.84 feet)

400CM (13.13ft)

500cm (16.4 feet)

Flag size

65*210cm

75*320cm

80*420 cm

Vertical Height from floor

280cm

360cm

450cm
Om oss :
Vi är i tryckfält för 12 års erfarenhet. Vi har 100 anställda, 6 professionella designers, 6 QC, 12 internationella försäljningar, 3 ingenjörer, 6 produktionslinjer, kan göra hög kvalitet och hög produktion kompabilitet. Våra huvudprodukter är Flaggor och banor
, Vinylklistermärke
och affischer, bildskärmar (
Spänningsduksdisplay
, tyghängande banderoller,
Rulla upp banderoller
,
X Stand Banners
),
Skräddarsydda bordsskick
och anpassad tryckt baldakin. De flesta av våra tryckmaterial har certifikatet för brandbekämpning (B1) och SGS för bläck. Alla våra kunder är från hela världen. Vi samarbetade med Hello Kitty, Disney före. Välkommen till din förfrågan, vi kommer att ge dig det bästa fabriken pris och snabb leverans.